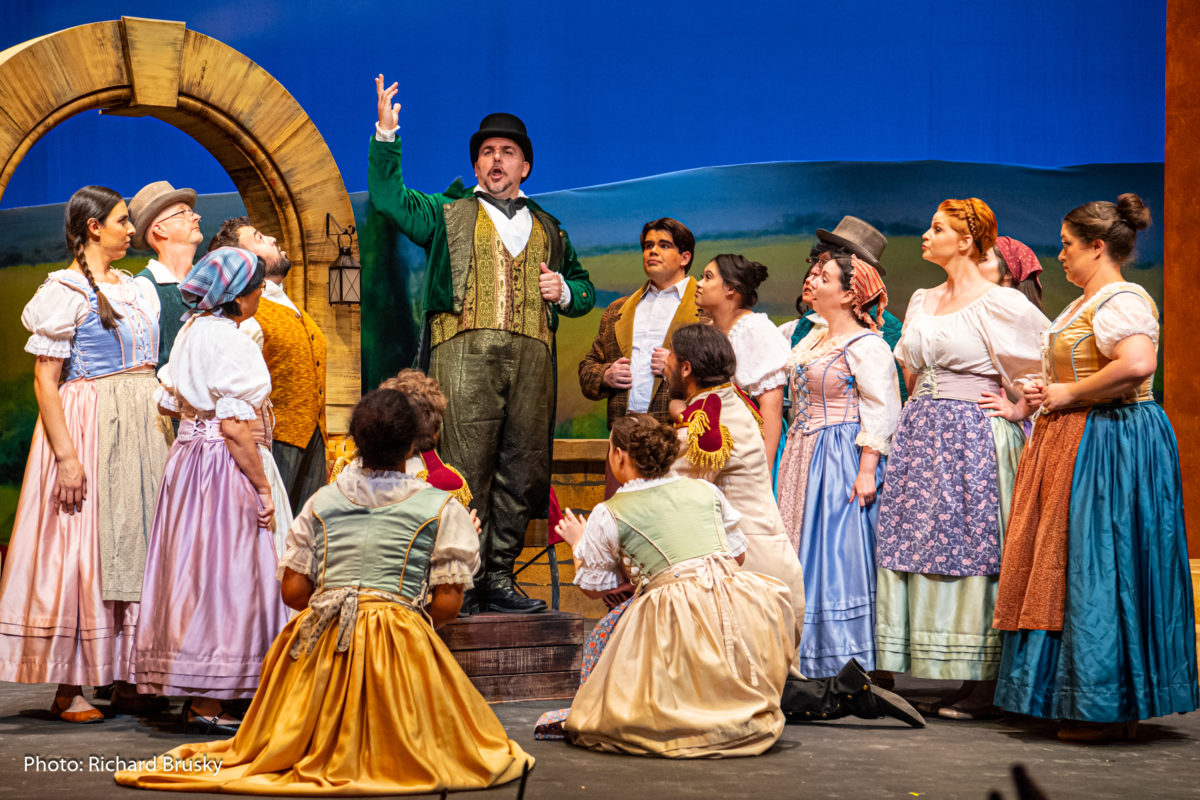 Opera is the artform that has it all – music, drama, comedy, dance, colossal sets, period costumes, and storylines ripped right from the headlines of history.
Opera can be an intimate experience, a grand experience, a classic experience, a modern experience... really almost any type of experience has been set to music by the greatest composers in history.
If you've never been to an opera and are worried about it being a confusing experience, we're here to help set you on the path toward becoming a full aficionado!
Understanding Opera
One of the most common things we hear from folks who are unfamiliar with opera is that they don't feel they understand it. We get that — how could a 200-year-old story performed entirely in a loudly-sung foreign language appeal to our modern pop-music sensibilities?
Art is an expression of humanity
Some of the most famous operas are many tens, even hundreds, of years old, but it was written by real people who lived rich, full lives and experienced the same range of human emotion we experience today, just in a different environment. The magic of opera is that it expresses what often goes unexpressed — the grand vastness of what we feel inside. Is it normal to sing a glorious ten-minute declaration of love while literally dying of consumption? No, but the actions of the character aren't the point, rather the expression of what the character is feeling is the true focus of the scene. If you were dying of consumption with the person you love most by your side, we'd gather that you would be feeling a desire to express that love more grandly than you could possibly describe in your weakened final breaths. Opera combines some of history's most eloquent text with the universal language of music to surpass physical reality and give us a glimpse into the inner world each of its characters' experiences, mirrored by our own complex lives as human beings. That was true at the time as it is true today, and what a cool thing it is to have something as intangible-yet-real as human emotion preserved for the ages, adapted in new ways, and offered the chance to be expressed to you.
The languages of opera
Opera has been written in many languages, from English to French to German to Italian, Russian, Czech, even Klingon. The problem is, you may not speak English, French, German, Italian, Klingon... and while we believe the staging and music can communicate more than you might expect, we also want you to enjoy the experience as much as we do, and even we don't fluently speak every opera language!
This is why we do our best to help you enjoy your experience and minimize that barrier for you:
Supertitles are projected during foreign-language productions wherever possible.
Synopses are available for each of the events on our website that we encourage you to read ahead of time, to help you recognize the story as it unfolds.
We make every effort to ensure the sight-lines from your seat are as clear as possible, and many of our productions take place in unique venues that will help you get into the story and follow everything our world-class directors have designed for you!
Meet a singer!
Have you ever met a real opera singer in person? Have you ever wondered how they do what they do? The demands of opera are pretty extreme, and the athletic nature of the skill requires decades of training. Yet, somehow, they make it look as effortless as breathing.
We love to meet you, and we'd love for you to meet our singers as well! After many of our productions, you can stick around for a bit and ask all your questions right to the artists themselves!
Mix With The Crowd
Opera's history spans just over 400 years, so you can imagine the diversity of music styles, languages, perspectives, and traditions that have formed in that amount of time! If you find yourself in conversation with a seasoned fan, we've put together some bits of knowledge that'll help you sneak your way into their inner circle and fit right in!
How did all this get started?
The entire history of music is fascinating, but the TL;DR about opera's origin is that it began during the Renaissance period as a secular counterpoint to the growth of music in the Church. Powerful families such as the Medicis in Italy began hosting lavish musical events and, in many cases, commissioning music specifically for them. At the time, ancient Greece was all the rage and a group of Renaissance humanists (musicians, poets, writers, etc.) gathered themselves into what they called the Florentine Camerata to discuss trends in music and drama, and how music especially could be used to revive the masterful ancient Greek dramas in a new and exciting way.
After their first meeting in the early 1570s, the Camerata's influence led to what is generally considered the first opera — Dafne by Jacopo Peri, written in 1597 and unfortunately lost to time. A later work by Peri, Euridice, dating from 1600, is the first opera score to have survived until the present day, but the earliest opera that is still widely performed, and often considered the first great example of opera, is Claudio Monteverdi's L'Orfeo, composed in 1607.
Dressing for the occasion
You'll see all sorts at the opera, from jeans to gowns, and generally we're Come As You Are. This is Vegas, after all. Gone are the days when black tie and long white gloves were expected and required, at Opera Las Vegas we want you to be comfortable and focused on the show! In case we do have a fancier affair, all of the events listed on our website include the recommended dress code, so you can be sure you're feeling right at home with the rest of the crowd.
Opera Etiquette
We get that you might find yourself in the throes of emotion during our shows — happens to all of us — but here are some tips for helping everyone around you enjoy the vibe as well:
When in doubt, follow the crowd when it comes to applause, as the breaks may not be obvious. And in opera, we always applaud the conductor as they approach their renowned place before the orchestra!
Candy and cough drops are okay to bring, but please refrain from loud unwrapping during the show.
By all means please feel free to share your experience! But we must strictly request that you save tweets, snaps, and pics for intermission or after the show.
The sound is the star at opera, so please avoid talking, whispering, or singing along, even during the overture. Our performers will give you everying you need to hear!
Even if you're feeling fancy, please skip the perfume and cologne, as many are severely allergic.
Lastly, we know it's easy to forget about our noisemaking devices, but please do not forget to silence them before the music begins.
Words To Know
Aria
A song for one (or mostly one) voice within an opera. In musical theatre these would be the solo songs by specific characters, and they usually express deep, grand emotions or comment on the state of things, without really moving the plot forward.
Art Song
A classical song that does not come from an opera, instead written as a standalone piece. These were the pop songs of the day, especially popular in the 19th and early 20th centuries, and you can thank art song composers for inspiring most of the music on the radio today!
Art Songs are usually performed by a soloist with a piano or small ensemble. Here's a fun example by operatic baritone Jorell Williams, with Hugh Murphy at the piano:
Bel Canto
An Italian term that translates to "beautiful singing," usually referencing a particular style of singing that became popular in the mid-19th century.
Chorus
The ensemble cast of onlookers, townspeople, servants, and other non-solo singing roles.
Coloratura
A particular style of music and singing involving very fast runs of notes.
Beverly Sills was one of the most famous coloratura sopranos in her day, able to sing very fast with very high accuracy:
Finale
The last big number of the show, usually featuring the entire cast.
Forte
"For-tay" - An Italian word that means loud in music.
Libretto
Refers to the text of the opera. In a play this would be the script.
Overture
The overture is the very first thing you hear, and it's a musical section played only by the orchestra to set the mood.
Piano
Not to be confused with "piano" a keyboard instrument, "piano" (spelled exactly the same but pronounced British), means soft or quiet in music.
Recitativo ("Recit")
Normally pronounced "reh-sit" but officially pronounced "reh-chit" if you're feeling particularly Italian, a recit is a sung piece of dialogue with a casual melodic style. Since (most) operas have no spoken dialogue, only singing, a recit helps to move the story forward and is usually sung in a fragmented, speech-like way. Mozart's operas probably contain the most distinct examples, so listen for them in between the big arias!
Vibrato
"Vih-bra-to" is that wavering pitch oscillation that gives opera its signature sound. A common misconception is that vibrato is an effect applied by the singer to create an operatic sound. Rather, vibrato is a natural phenomenon that develops to help the voice balance itself in harmony with the singer's powerful lungs. To identify a good example of healthy vibrato, listen for an even "spinning" quality, rather than a wobble. Famed tenor Luciano Pavarotti is an excellent example!
Did You Know?
When performing in most indoor venues and concert halls, opera singers still do not use microphones!
Instead, the natural resonance of their precisely-balanced vocal technique vibrates all of the air in the room to carry their sound all the way to the seats in the back!
Voice Types & Ranges
Soprano
The soprano voice often gets the most attention in opera, and has probably the most sub-types of any voice type, from coloraturas who sing very high and fast, to lyric sopranos who sing most of the romantic leads, to dramatic sopranos known for their immense voices and grand orchestral backing. If you see a woman sing a gorgeous, moment-stealing aria while basking in the glow of love, dying on a couch, losing her sanity, or playfully tormenting her lover, she's probably a soprano!
Video: One of the most famous sopranos in history, Maria Callas, sings an aria from one of the operas in our 2021/2022 season, Tosca.
Mezzo-Soprano
With a lower range than a soprano, mezzo (pronounced "Med-zo") -sopranos are often cast as seductive leads, rude or comical side-characters, or boys. A famous mezzo role you may recognize (at least the music) is Bizet's Carmen, but almost every opera has at least one mezzo role.
Video: Enjoy this fantastic performance of Carmen's Habañera by world-renowned mezzo, J'Nai Bridges.
Alto or Contralto
While "alto" is often used outside of opera to describe a similar vocal range as mezzo-soprano, contralto is a true category all on its own. A much rarer voice type than any of the others, contraltos have the lowest voices of the female singers and are often cast as older women, witches or wise confidants, and the lowest parts in all- or mostly-female casts.
Video: Contralto Elena Zaremba sings the role of the mysterious fortune teller in Verdi's dramatic masterpiece, Un Ballo in Maschera.
Tenor
Ahhh, the tenor. If you've heard of an opera singer, you've probably heard of a tenor (See video). Tenor refers to high-voiced men, and they can typically be seen pining in love for the soprano, heroically saving the day, or goofily reacting to whatever confusing shenanigans the lower voices have cooked up. If one of the leads is a tenor, keep your ears open for their spotlight aria and prepare your heart to throb.
Video: Legendary tenor and possibly the most famous opera singer of all time, Luciano Pavarotti, performing a signature tenor aria, Nessun Dorma (Skip to 2:10 for the part you know).
Countertenor
Countertenors tend to have a much more specific niche in the opera world, often taking on roles that were originally written in the Baroque period (1600-1750). Today, they are men who use their "falsetto" voice to sing in the female range, producing an unusual androgynous sound reminiscent of a mezzo-soprano.
Video: Well-known countertenor Andreas Scholl performs a typical Baroque aria from Handel's Giulio Cesare.
Baritone
Baritone is the most common voice type for men, generally with a range somewhere in the middle, between tenor and bass. Notable baritones often have rich, warm tones, and are often cast as either the father, the villain, or the comedic instigator of mischief.
Video: Celebrated baritone Gerald Finley sings a cornerstone of baritone repertoire, the "Catalogue Aria" from Mozart's Don Giovanni.
Bass
Our last, and lowest, voice type on this list is the bass, a voice type whose earth-shaking resonance is its signature move. A true bass is a rare voice type but when it happens, oh my does it ever happen. Basses are often cast as older men, regal figures, and in comedic opera they are often given a special title of "basso buffo," or a comedic bass, due to the 'jolly' or 'blundering' characters they play.
Video: Legendary bass Kurt Moll sings the comically sinister Osmin, from Mozart's (you can gloss over this mouthful if you don't speak German) Die Entführung aus dem Serail.
Ready To Test Your New Knowledge?