Opera With Class Outreach Tours
to Schools and Libraries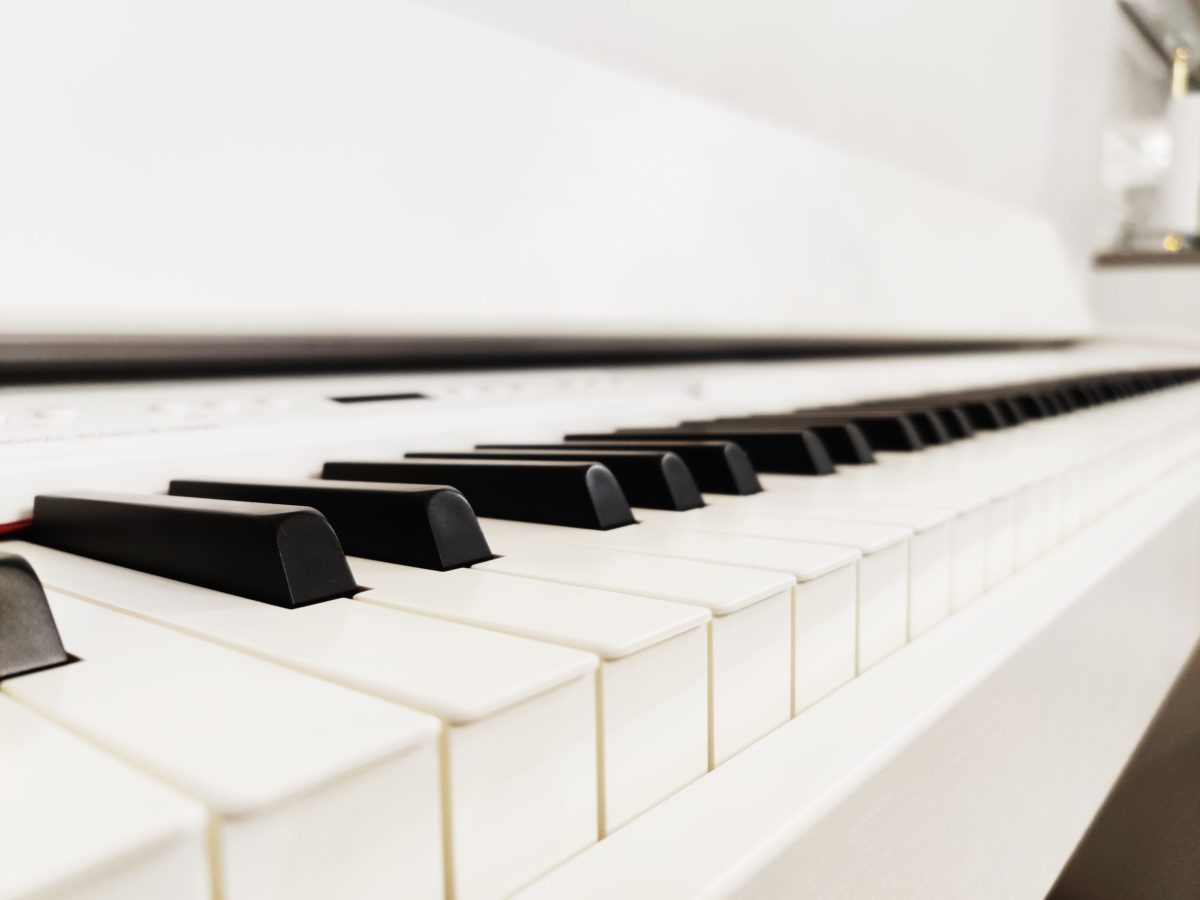 Who's Afraid of Opera?
Ongoing Virtual Visits - In Person Resumes October 2022
No one! At least not after experiencing OLV's 30-minute introduction to opera's rich and varied history, an art form that combines music, comedy, drama, dance, instrumental accompaniment, technical theatre arts, and most significantly, unamplified singing.
Who's Afraid of Opera? is an instructional and entertaining Informance (Information + Performance), that teaches youth about opera, and demystifies how to appreciate the beauty of operatic singing in its many manifestations.
Two young professional singers perform selections from opera, operetta and musical theatre. The Informance is designed to educate students in lyric theatre performance traditions, acquaint them with famous arias and duets, and to make the opera performances accessible, with presentations in a style relevant to modern life.
Since the vast majority of students will be experiencing opera for the first time, a narrator explains the musical journey, which includes songs in English translation, as well as a classic aria in the original Italian "just for fun" - Quando m'en vo (Musetta's Waltz Song) from Puccini's masterpiece La Bohème.
Participants also learn about crossover talents, with these trained opera singers performing selections from classically inspired Broadway shows. The concise, fast-paced presentation is followed by a lively Q&A session with the artists, including many astute observations. Our favorite question to date was when one fourth grader asked: "How do you do the yelling?"
OLV "yells it" proudly, that we have reached over 20,000 students since the first schools tour in 2016. Plans for spring 2022, including virtual learning, are currently being coordinated.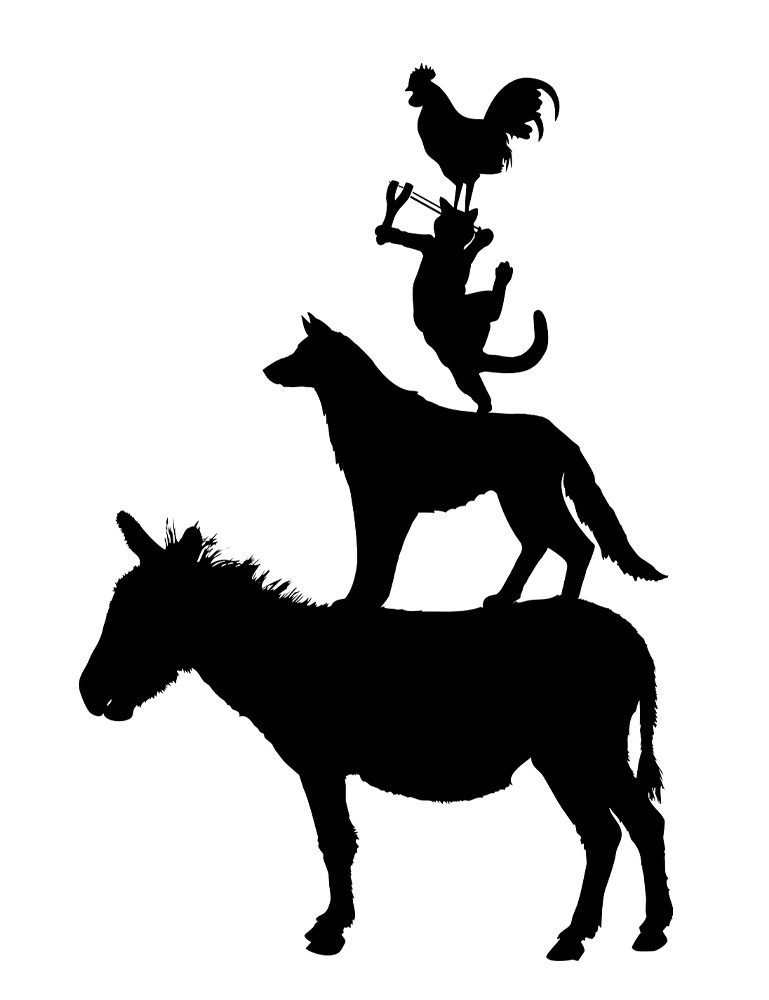 The Bremen Town Musicians
May 12 — May 27, 2022
"A donkey, a rooster, a dog, and a cat, we're marching to Bremen, imagine that!"
Did you know that the world-famous composers Rossini, Donizetti, Verdi, Offenbach, and Sullivan wrote the opera, The Bremen Town Musicians? Neither did they! The resourceful adaptor John Davies has repurposed various operatic solos and ensembles to tell the beloved folktale by the Brothers Grimm.
This 50-minute, fully-staged performance is perfect fare for the whole family as it introduces them to the operatic art form with tuneful English language musical selections, and a readily understandable and entertaining story.
The tale also incorporates an important life lesson. Davies writes: "I'd like to think young audiences will conclude that acceptances of folks, no matter how different, is the smart and decent thing to do. . .and that marching together is a far better choice than going it alone on the road to Bremen."
Opera Las Vegas is no stranger to John Davies' adaptations, having successfully toured his Pinocchio, The Three Little Pigs, and Jack and the Beanstalk in recent seasons to the delight of thousands of young family members.
Performance venues for The Bremen Town Musicians in May 2022 are in the process of being finalized.
Opera Las Vegas On The Web
Opera Las Vegas Presents:
Opera Oasis
Opera Las Vegas is pleased to continue its free online offering, Opera Oasis, with Verdi's La traviata. Embodying the definition of "oasis" as "something that provides refuge, relief, or pleasant contrast," OLV intends each feature to offer a bite-sized melodious respite from whatever distractions the day holds. Each edition will focus on a different opera and will pair an instrumental soloist with a vocalist. To enrich the experience, OLV Music Director and Principal Conductor Joshua Horsch will provide context and commentary on each selection.
The latest episode of Opera Oasis explores Verdi's timeless classic, La traviata. OLV favorite soprano Cecilia Violetta Lopez sings Violetta's famous aria Sempre libera along with collaborative pianist Nathan Salazar. Star Las Vegas violinist De Ann Letourneau performs the Prelude to Act III with acclaimed pianist Alexandria Le.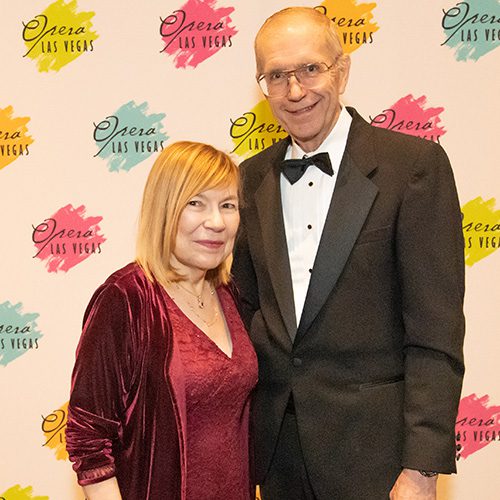 Quarter-Million-Dollar Gift from Chris and Anita Murray!
Opera Las Vegas (OLV) is thrilled by a quarter-million-dollar leadership gift commitment from long-time Sustaining Trustees, patrons, opera lovers, and friends Chris and Anita Murray to secure the future of the company through increased staffing, expanded programming and strategic planning initiatives.
"The scale of this philanthropy is formidable for its magnitude alone and is all the more noteworthy coming from two people who have become close personal friends over their many years of support", remarked General Director Jim Sohre. "This gift will greatly help sustain OLV's unique position as Nevada's professional company member in OPERA America. We are deeply grateful."
Chris and Anita bring to Opera Las Vegas a keen sense of fiduciary responsibility. Drawing on their successful business practices and considerable experience at other non-profit organizations, the Murray's have worked closely with the board of directors assisting with the company's planning and management of its financial affairs.
To make a donation of any amount, visit our Donate Now page, or contact Jim at [email protected]