Opera Las Vegas On The Web
Opera Las Vegas Presents:
Opera Oasis
Opera Las Vegas is pleased to continue its free online offering, Opera Oasis, with Gluck's Orfeo ed Euridice.
Embodying the definition of "oasis" as "something that provides refuge, relief, or pleasant contrast," OLV intends each feature to offer a bite-sized melodious respite from whatever distractions the day holds. Each edition will focus on a different opera and will pair an instrumental soloist with a vocalist. To enrich the experience, OLV Music Director and Principal Conductor Joshua Horsch will provide context and commentary on each selection.
This episode explores Gluck's Orfeo ed Euridice. OLV favorite mezzo-soprano Mary Beth Nelson sings the famous aria "Che faro senza Euridice" (What will I do without Euridice?), star flutist Dr. Colleen White performs the Dance of the Blessed Spirits, and OLV Music Director Joshua Horsch joins on the piano. Opera Oasis logo designed by Lena Gomez.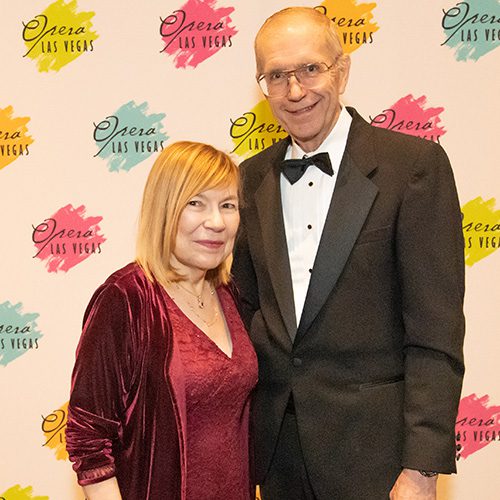 Quarter-Million-Dollar Gift from Chris and Anita Murray!
Opera Las Vegas (OLV) is thrilled by a quarter-million-dollar leadership gift commitment from long-time Sustaining Trustees, patrons, opera lovers, and friends Chris and Anita Murray to secure the future of the company through increased staffing, expanded programming and strategic planning initiatives.
"The scale of this philanthropy is formidable for its magnitude alone and is all the more noteworthy coming from two people who have become close personal friends over their many years of support", remarked General Director Jim Sohre. "This gift will greatly help sustain OLV's unique position as Nevada's professional company member in OPERA America. We are deeply grateful."
Chris and Anita bring to Opera Las Vegas a keen sense of fiduciary responsibility. Drawing on their successful business practices and considerable experience at other non-profit organizations, the Murray's have worked closely with the board of directors assisting with the company's planning and management of its financial affairs.
To make a donation of any amount, visit our Donate Now page, or contact Jim at [email protected]