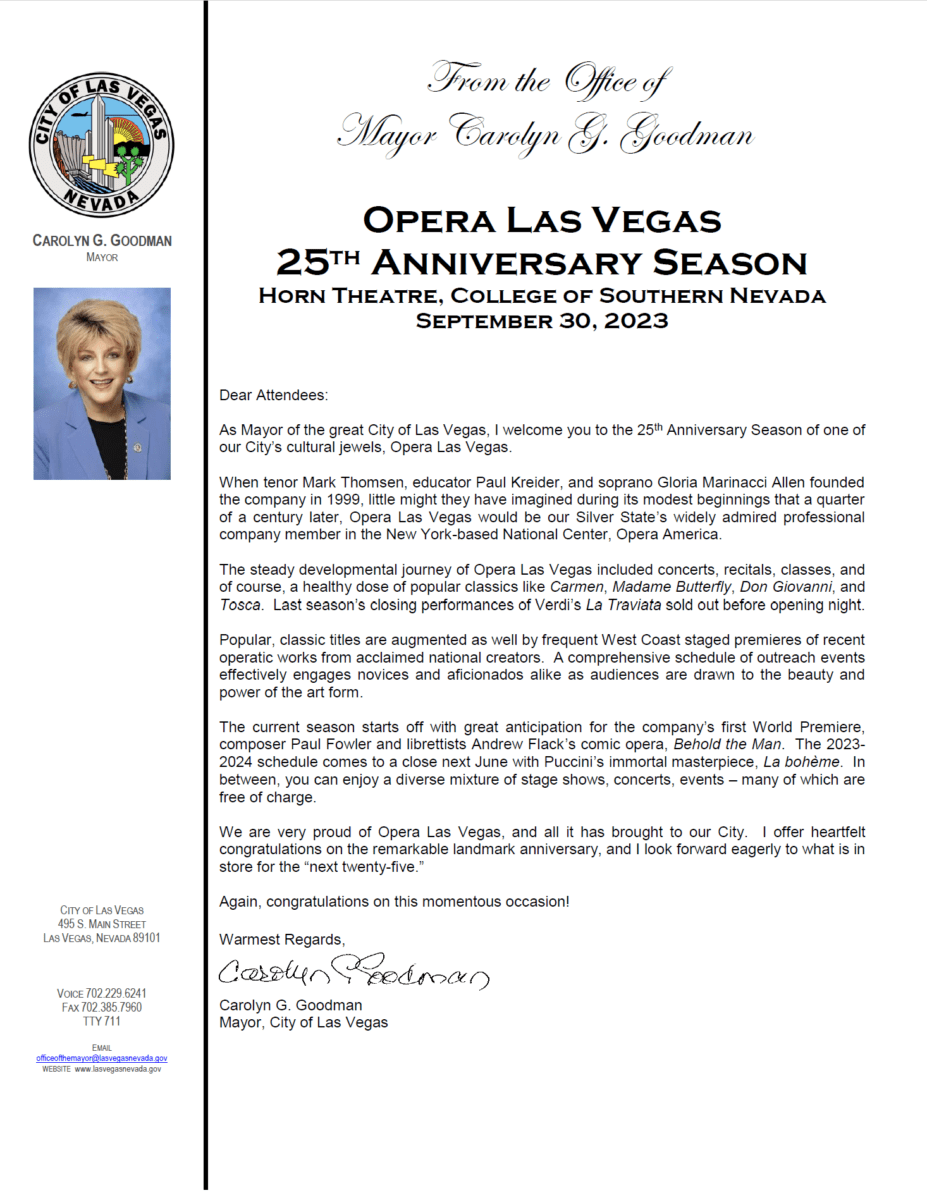 Dear Attendees:
As Mayor of the great City of Las Vegas, I welcome you to the 25th Anniversary Season of one of our City's cultural jewels, Opera Las Vegas.
When tenor Mark Thomsen, educator Paul Kreider, and soprano Gloria Marinacci Allen founded the company in 1999, little might they have imagined during its modest beginnings that a quarter of a century later, Opera Las Vegas would be our Silver State's widely admired professional company member in the New York-based National Center, Opera America.
The steady developmental journey of Opera Las Vegas included concerts, recitals, classes, and of course, a healthy dose of popular classics like Carmen, Madame Butterfly, Don Giovanni, and Tosca. Last season's closing performances of Verdi's La Traviata sold out before opening night.
Popular, classic titles are augmented as well by frequent West Coast staged premieres of recent operatic works from acclaimed national creators. A comprehensive schedule of outreach events effectively engages novices and aficionados alike as audiences are drawn to the beauty and power of the art form.
The current season starts off with great anticipation for the company's first World Premiere, composer Paul Fowler and librettists Andrew Flack's comic opera, Behold the Man. The 2023-2024 schedule comes to a close next June with Puccini's immortal masterpiece, La bohème. In between, you can enjoy a diverse mixture of stage shows, concerts, events – many of which are free of charge.
We are very proud of Opera Las Vegas, and all it has brought to our City. I offer heartfelt congratulations on the remarkable landmark anniversary, and I look forward eagerly to what is in store for the "next twenty-five."
Again, congratulations on this momentous occasion!
Warmest Regards,
Carolyn G. Goodman
Mayor, City of Las Vegas