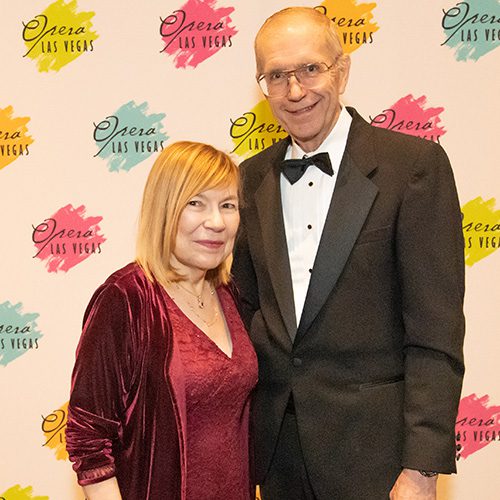 Las Vegas, NV — Opera Las Vegas (OLV) today announced a quarter-million-dollar leadership gift commitment from long-time Sustaining Trustees, patrons, opera lovers, and friends Chris and Anita Murray to secure the future of the company through increased staffing, expanded programming and strategic planning initiatives.
This gift comes as the Company not only re-emerges from the pandemic closure but also prepares to celebrate its 22nd Anniversary with the 2021-2022 season. "The scale of this philanthropy is formidable for its magnitude alone and is all the more noteworthy coming from two people who have become close personal friends over their many years of support", remarked General Director Jim Sohre. "This gift will greatly help sustain OLV's unique position as Nevada's professional company member in OPERA America. We are deeply grateful."
Chris and Anita Murray joined the Opera Las Vegas organization as Sustaining Trustees in 2009. For the past twelve years, their unwavering support and financial insights were instrumental in lifting the organization to its current level of local, regional, and national recognition. The cumulative financial support they have provided make them OLV's largest source of donations. The Murray's have not only been instrumental in supporting the company financially but have been directly involved in fundraising through chairing for several years the organization's annual galas. Under their leadership, the 2020 gala, Magical Night of Delights was the most successful fundraiser in the history of the company.
Chris and Anita bring to Opera Las Vegas a keen sense of fiduciary responsibility. Drawing on their successful business practices and considerable experience at other non-profit organizations, the Murray's have worked closely with the board of directors assisting with the company's planning and management of its financial affairs.
OPERA America presented its 2020 National Opera Trustee Recognition Award to Chris and Anita Murray for exemplary leadership and generosity. The Murray's were among only five trustees from among OPERA America's 189 professional opera company members to be so honored in the 13th annual edition of these National Trustee Awards.
When asked why they are providing Opera Las Vegas with this remarkable gift, the Murray's said: "As opera lovers moving here from New York, we discovered that an opera company was beginning to take root in Las Vegas. Although operating on a small scale with limited resources, the productions were of outstanding quality, blending internationally established singers with local talent, and drawing on the city's large pool of top-quality musicians. New performing arts venues opening in Las Vegas, including the Smith Center for the Performing Arts, and expanding cultural institutions, including the symphony and ballet, present a great opportunity for Opera Las Vegas to become a vibrant and prominent component of our cultural landscape. Our goal is to help put Opera Las Vegas on an accelerating path to bring opera lovers in our community the highest quality entertainment and introduce new audiences to the full range of artistic experiences unique to the operatic art form."
About the CompanyOpera Las Vegas seeks to engage diverse communities in the ongoing evolution of the operatic art form through contemporary programming, time-honored classic artistry, and a fresh definition of the modern opera-going experience. The 2021-2022 season will continue OLV's award-winning new works series with West Coast premieres of Evan Mack and Joseph McGuire's The Ghosts of Gatsby; Ricky Ian Gordon and Royce Vavrek's The House Without a Christmas Tree; D.J. Sparr and Mark Campbell's Approaching Ali; and Michael Torke and A.R. Gurney's Strawberry Fields. Beloved classics are represented by Leonard Bernstein's Trouble in Tahiti, and Giacomo Puccini's Tosca.