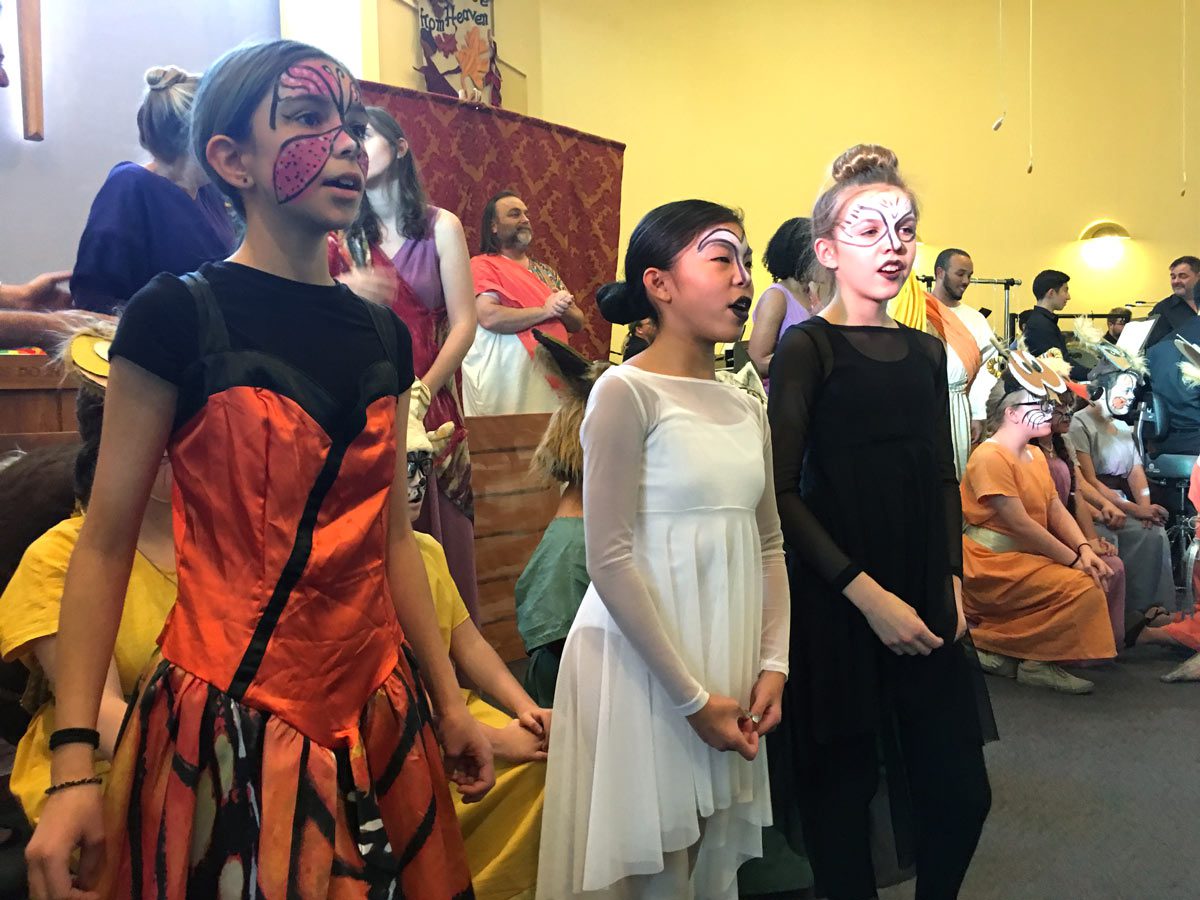 The mobile Opera on Wheels outreach program went into overdrive with a successful tour of Benjamin Britten's one act opera Noah's Flood (Noye's Fludde). For a free will offering, nearly five-hundred audience members were able to experience live opera at Grace Presbyterian Church (17 November) in central Las Vegas; Green Valley Presbyterian (18 November) in Henderson; and Mountain View Presbyterian (19 November) in Summerlin.
Conceived as a "Church Parable," the opera teaches the story of Noah and the flood through operatic characters, suggested staging and scenery, hymn singing, and cleverly scored orchestrations. Rising star conductor Clinton Smith (Santa Fe Opera) led a spirited but beautifully controlled reading of the score. The audience even got to sing along as there are three congregational hymns incorporated into the music.
The tour also featured the debut performance by the newly formed Opera Las Vegas Youth Chorus as the animals in the ark. Hosted by Thurman White Academy, the chorus was the brainchild of co-directors Athena Mertes and Jim Sohre. The twenty young singers were a highlight of the show, especially as fancifully costumed and made up by designer Stephanie Daniels.
As Noah, robust baritone Travis Lewis anchored the show, especially as he argued with his contentious wife, sung with spunky character by mezzo Ashley Stone. The cast of Noah's sons and their wives were evenly matched and resonantly musical. They included tenors William McCullough and Joshua Meltzer, baritone Phillip Harris, and sopranos Tamara Richards, Casey Dakus, and Lisa Elliott, who also graciously hosted the group for six weeks of rehearsals at Grace Church. Mrs. Noah's drunken gossip friends were securely sung and boozily impersonated by sopranos Athena Mertes, Maria Pinegar, Emily Stephenson, and Rebecca Morris
The twenty-four piece orchestra assembled by Manuel Gamazo featured some of the area's best players including a delightful mix of strings, organ, piano, trumpets, recorders, hand bells, and a large bank of percussion effects including a "scale" of hung coffee mugs beaten with wooden spoons.
Director Bonita Bunt not only devised a simple and effective staging, but also designed the clever set pieces. Las Vegas Little Theatre loaned the necessary props.
Thanks to the generous underwriting by the Doris and Theodore Lee Family Foundation, all of the free will donations generated at the three performances of Noah's Flood will be given to national flood relief efforts.
The success and appeal of this premiere Opera on Wheels tour is that each show was greeted with a cheering standing ovation.