Thank you to everyone who supported Opera Las Vegas in our award-winning 2023-2024 season.
A real high point of the year just came in June, with the first sold-out stage production in our company's twenty-four-year history, for Giuseppe Verdi and Francesco Maria Piave's immortal classic, La Traviata.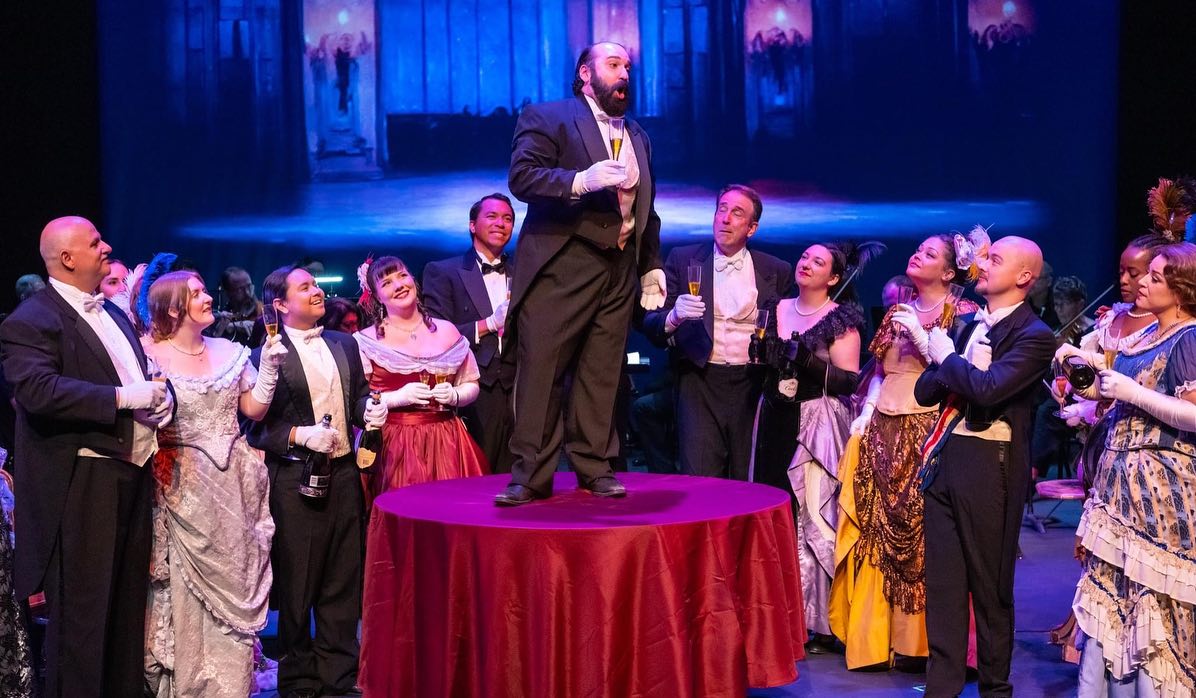 This stunning achievement really embraced the three pillars of our motto:
Enthralling Stories.  Director Octavio Cardenas and the design team created a compelling and fresh staging that hit all the emotional buttons in this heart-wrenching story.
Exhilarating Music.  Maestro Joshua Horsch led a gorgeous reading of the timeless score, and the Las Vegas Philharmonic played with sheen and dramatic fire, matched by the full-throated choral singing from the Las Vegas Master Singers.
Exquisite Singing. Soprano Cecilia Violetta Lopez has become the gold standard by which other Violettas are judged.  OLV's was her twelfth production, and her total mastery anchored the proceedings, with notable assist from tenor Christopher Bozeka and baritone Daniel Sutin.
The cheering audiences were further buoyed by the news that OLV had just received its fourth consecutive grant ($25,000) from the National Endowment for the Arts in Support of our Living Composers and Librettists Initiative.
This widely admired program strives to give worthy new works second or subsequent productions, with the hope of establishing them in the operatic performance canon. The past season was rich in just such events with five West Coast Premieres.
In September 2022, the OLV schedule began with three productions that additionally formed our first ever Women Composers Festival.
Missy Mazzoli and Royce Vavrek's Proving Up jump started the calendar with a haunting, riveting run of shows that held audiences in rapt attention.  One viewer pronounced it "mesmerizing." With Joshua Horsch on the podium and Audrey Chait in the director's chair, the two were returning to OLV along with soprano Kayla Wilkens.  Making OLV debuts were baritone Joe Lodato, soprano Christina Mancheni, tenor Dylan Morrongiello, bass William Meinert, mezzo-soprano Hilary Grace Taylor, and actor Rafael Canizelez. The innovative, immersive production was held in UNLV's Black Box Theatre.
The next weekend brought the World Premier Workshop (Act I) staging of Emily Clements' Letters to Lily, a coming-of-age story, appropriately scheduled at the LGBTQ Center during Pride Month.  Ms. Clements was buoyed by a built-in support group.  Director Linda Lister and conductor Jennifer Bellor are two of her UNLV Music Department mentors, and the orchestration was created by her father.  The large, local cast was headed by sopranos
Olivia Yokers and Claudia Affan in their OLV debuts. Talks backs with the creative team after each performance were very popular.
To close out the Women Composers Festival, Southern Nevada Music hosted BelleSongs, a recital featuring the composer of that song cycle, Lois Henry, and soprano Kara Grover, both new to our audiences. The program was filled with vibrant compositions from women, historic and living. 
It was a pleasure to be back at the popular music venue, The Space, for January's gothic murder mystery opera, Evan L. Snyder's A Capacity for Evil.  Co-librettist John Riesen is also a star tenor who thrilled opera lovers in the leading role, wonderfully abetted by mezzo-soprano Erin Gonzalez and debuting baritone, Andre Chiang. When COVID felled a tenor in the all-important villain's role, Dylan (Proving Up) Morrongiello saved the day by learning (and expertly performing) the part in a week's time. Evan, John, and Joshua Horsch conducted a lively Q&A after each show.
Having twice been rescheduled owing to the pandemic, the March production of D.J. Sparr, Mark Campbell, and Davis Miller's Approaching Ali proved it was emphatically worth the wait. Bass Soloman Howard sang the work's first production when he was just an Apprentice at Washington National Opera.  Now a star at major international houses, including the Metropolitan, Soloman feels such a kinship with the title role and the legend, that we enticed him to reprise his Mohammad Ali on the boards of the Horn Theatre at the College of Southern Nevada. Native Las Vegas Vegan, baritone Brian James Myer (as real life author Davis Miller) matched hm note for note in scene after scene of vocal and emotional thrills. The composer and stars participated in a moderated discussion after the performances.
The OLV Outreach program offered one new themed concert and one longtime favorite. Robert and Shirley Kramer provided underwriting for the premiere edition of Voices Raised for Vets, an appreciative salute to those who served and those who serve. It featured a cast of five who performed selections from opera and operetta sung by or about soldier characters, as well as appropriate songs from Broadway shows and the American Songbook. A large appreciative audience attended at the Windmill Library Theatre.
The annual Holiday on Broadway musical revue found a congenial venue at Southern Nevada Music, and the event served as a "thank you" to our donors and special friends for their past support.  The Opera Las Vegas Youth Chorus was an especially popular component in the evening's success.
Rounding out the season, Opera Las Vegas produced a widely praised gala, Paris Extraordinaire, at the Milano Ballroom in the M Resort and Casino in February.  It was our first fund-raiser of this magnitude since 2020, and the lavish Silent Auction, dynamic entertainment, and first-rate catering and service impressed all in attendance.
Paris Extraordinaire was headed up by the tireless co-chairs, Chris and Anita Murray, our Trustees who also have our unending gratitude for their major gift that made the entire 2022-2023 season possible.
We can't wait to share what's in store for our upcoming Twenty-fifth Anniversary Season!